---
Brand Name: TouchNature
NET WT: 100g
Soap Type: Handmade Soap
100% Plant-based (Vegan) Soap Natural colours from spices, calendula flower petals, peppermint leaves, henna and turmeric.


7 BAR SOAP CHOICES ;


(1) Lemongrass: Lemongrass Soap is well known for its calming and stress relieving scent. Lemongrass soap acts as an anti-bacterial and anti-fungal agent. It is beneficial for pimple prone skin as it minimizes the size of the pores. It also tones the skin to reduce wrinkles. Suitable for both young and old.

--------------------


(2) Tea Tree: Tea Tree Soap is well known for its natural therapeutic properties to fight acne. The anti-fungal, anti-bacterial and anti-inflammatory properties of the tea tree essential oil helps in limiting the growth of microbes, preventing pimples and decreasing skin inflammation. Tea tree oil imparts a crisp, clean scent and soothes the skin with its natural healing properties.

--------------------


(3) Lavender: The calming effect of the lavender oil can help in relieving depression, anxiety, and even headaches. Therefore, most people would use this soap before bed time to feel relaxed and comfortable. Lavender also has anti-inflammatory properties. If you are suffering from any skin inflammations such as burns, cuts, scabies, or dermatitis, using lavender soap is beneficial. It also has some anti-bacterial properties useful for treating bacterial skin infections.

--------------------


(4) Geranium: Geranium Soap is from an entirely different genus of plant and has a very floral, almost rose-like scent. Geranium seems to particularly resonate with women and aids in dealing with our hormonal issues. Geranium soap is gentle enough to be used on almost anyone, with no known side affects or irritations. It is also an effective anti-inflammatory aid to speed up the healing of wounds, burns and bruises. 

--------------------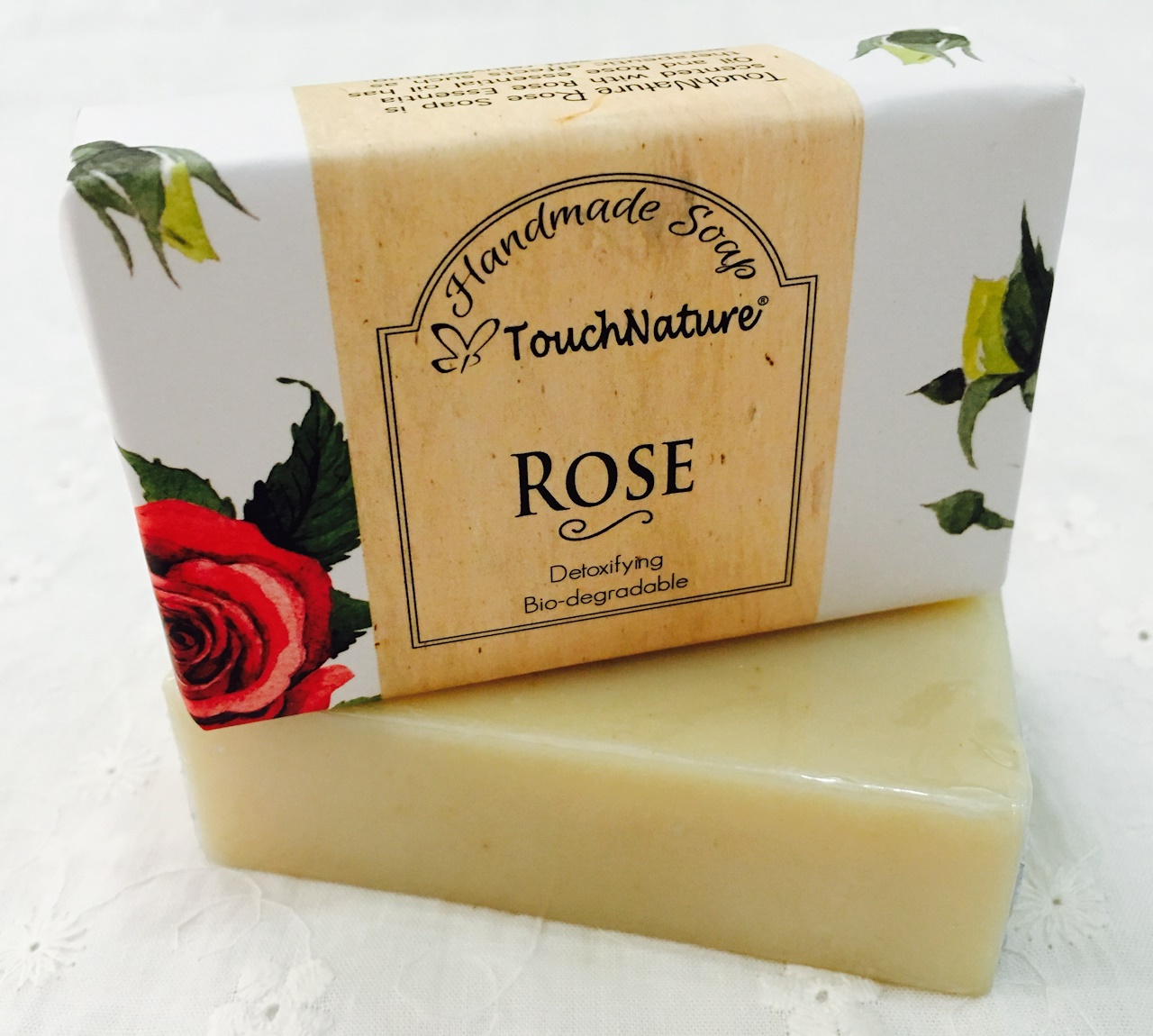 (5) Rose Bar: Rose Soap smells great and is excellent for dry and sensitive skin as roses contain natural moisturing oils to smooth the skin. The astringent qualities of roses tightens pores and restores suppleness for a glowing complexion. Roses naturally contain high amounts of vitamin C. Vitamin C is a powerful antioxidant to fight the free radicals that cause wrinkles and other signs of aging.

--------------------


(6) Peppermint: The fragrance of peppermint soap is refreshing and soothing. According to Organic Facts, peppermint essential oil soap has a cooling effect on the skin, brightens dull skin and improves oily skin. Therefore, it's a perfect remedy for those suffering from acne. It is a drying herb and is not recommended for dry or flaky skin conditions. 

--------------------

(7) Olive: Olive Oil antioxidant properties and Vitamin E content are renowned for nourishing, cleansing, moisturising and protecting skin against the signs of ageing. Olive Soap naturally cleanses and conditions skin without drying it out or stripping it of its natural oils. Thanks to its nourishing properties, it makes a very gentle cleanser that is suitable for use by the whole family.

--------------------

Soap Ingredients explained;

(1) Sodium Cocate is a simple product made 100% from coconut oil, produced through a process called saporification. It functions as a surfactant (cleansing) & emulsifying agent.

(2) Sodium Palmate is a simple product made 100% from palm oil, produced through a process called saporification. It functions as a surfactant (cleansing) & emulsifying agent.

(3) Sodium (aka. Alkali) is obtained from the ashes of plants. It is an alkali base to balance the skin PH.

(4) Sunflowerate is made from a high-oleic sunflower oil. It contains natural glycerin to make an extremely mild, low-foaming and smooth soap.

(5) Sodium Castorate is a simple product made 100% from castor oil, produce through a process called saporification. It functions as a surfactant (cleansing) & emulsifying agent.

(6) Glycerin here is 100% plant extract derived. It is used to mosturise the skin and can be used for even the most sensitive skins like ecezma or psoriasis. Glycerin do not irritate the skin.

(7) Cymbopogon Schoenanthus Oil extracted from Lemongrass.

(8) Sodium Olivate extracted from Olive.

(9) Lavandula Angustifolia & Ratanjot Root extracted from Lavender.

(10) Mentha Piperita Leaf Oil extracted from Peppermint.

(11) Melaleuca Alternifolia Leaf Oil extracted from Tea Tree.

(12) Pelargonium Graveolens Oil extracted from Geranium.